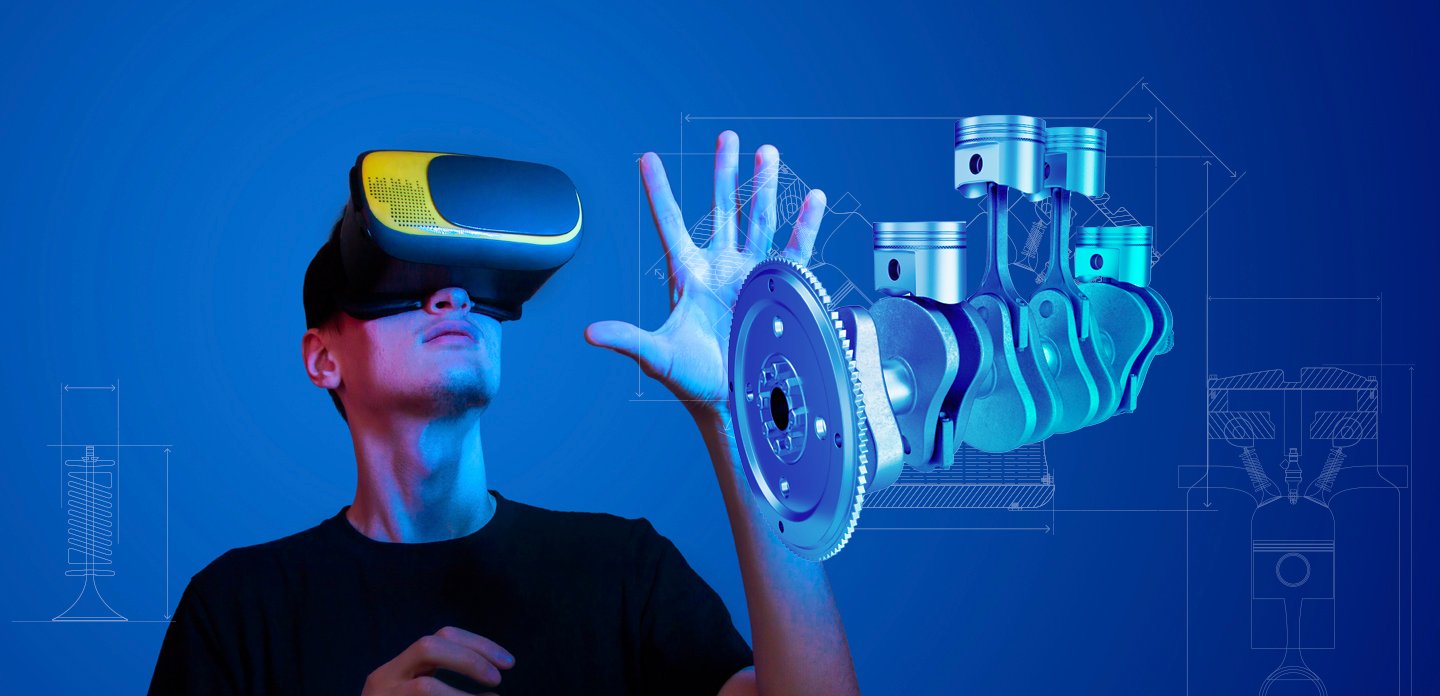 About XR Automotive vertical - XTIC
In contribution with vision set at CAVE and XTIC, sector specific verticals are being initiated and formed for focused innovation in XR domain in terms of developing product and case study to solve industry and community problem.
XR Automotive vertical is constituted with industry experts. Industry experts deliberate and discuss together at each stages of product life cycle, from design to sales & market in the automotive sector. Team has identified 30 priority domains in the automotive sector where academia and startup can choose any of the 30 to work upon them to develop product and case study. More such domains would be added in the list on progress. It will not solve problem with digital technology but also result into adoption and penetration of XR technologies in Indian ecosystem to leverage benefits of power of XR by OEMs, Tiers, suppliers, developer, academia, startup and industry.
It will improve Performance across the entire value chain from Research and development(R&D) to manufacturing, Sales and Aftersales. XR becomes part of Product and ecosystem creating enhanced user interactions and helping OEMs to better Differentiate their Product. It lowers the cost and leads to higher Revenue. Such initiative will add values to the community by reduced Travel costs, Process Optimisation, First Time Right, Captivating Demonstrations, Faster Learning, Higher Productivity and more. Need to be provided by mani Chief Engineer, Tata Technologies Managing Partner, VIBROMECH Chief Engineer, Tata Technologies Managing Partner, VIBROMECH Key Strategic and Objectives of AutoCAVE
AutoCAVE connects with academia & Start-up and share vision of CAVE
Share problem statement with CAVE ecosystem
Freeze idea to take forward for product & case study development
Mentor and guidance support to academia & Start-up
Help academia & Start-up in commercialisation of product & case study
Repeat for new problem statement with academia & Start-up
Regular connect with academia & start-up eco-system at CAVE in knowledge sharing/webinar in automotive and XR domains for growth of CAVE in India and overseas. 
Identify pool of problem statements from end-to-end product development cycle of Automotive, leading to innovation, business benefits and penetration of technology in this sector. 

Prepare a document which contains problem statements and scope. 
Periodic technical domain & mentorship guidance throughout the development of XR (Product or Case Study) to Academia/Start-ups. 
Guidance to Academia/Start-ups in commercialization.
Categories on Collaborative Work
Automotive Domains List for XR - Product & Case Studies Innovation:
Refer below list of domains across life cycle of automotive. There are 4 levels: 
It shows stages of life cycle of automotive applicable to Commercial vehicles, Passenger vehicles, Autonomous Vehicles (AV), Electric Vehicles, Automated Driving Assistance System (ADAS), Connected Vehicles for 2-Wheeler, 3-Wheeler & 4-wheelers.
Category 2: Domain - Value:
There are 30 domains which have been added to the priority list to be worked upon by experts and veterans of the industry. More to be added in the future. 
Platform uses various types of hardware, game engines and gadgets to experience engineering software and haptic devices. 
Applicant to innovate either a product or a case study on XR or XR devices to solve problems as stated in domain listed. Mentors will support with their expertise to build products and case studies. 
List of Problem Statement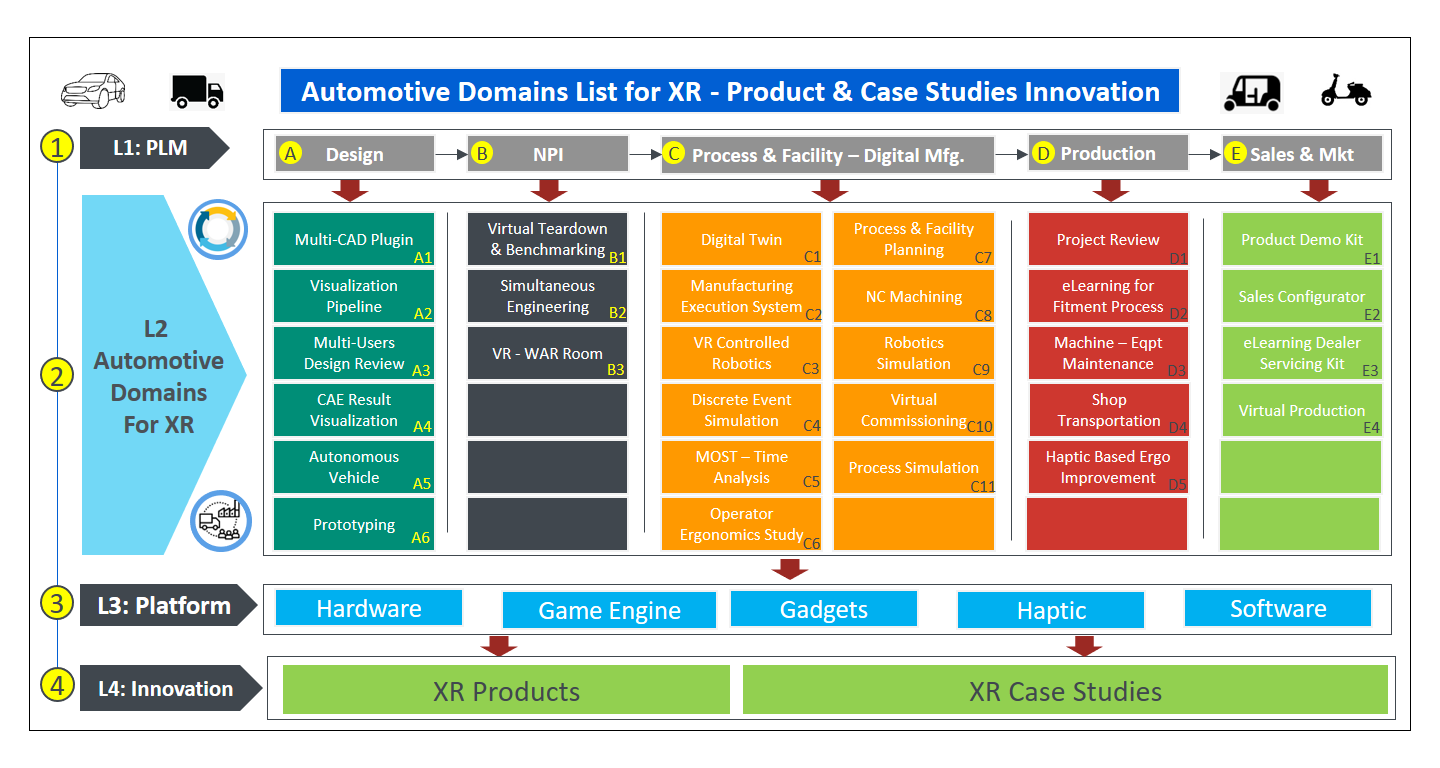 XR Development Framework for Automotive for Product and Case Study
A 6-stage framework is outlined for academia and start-ups to connect with XR Automotive vertical to develop products and case studies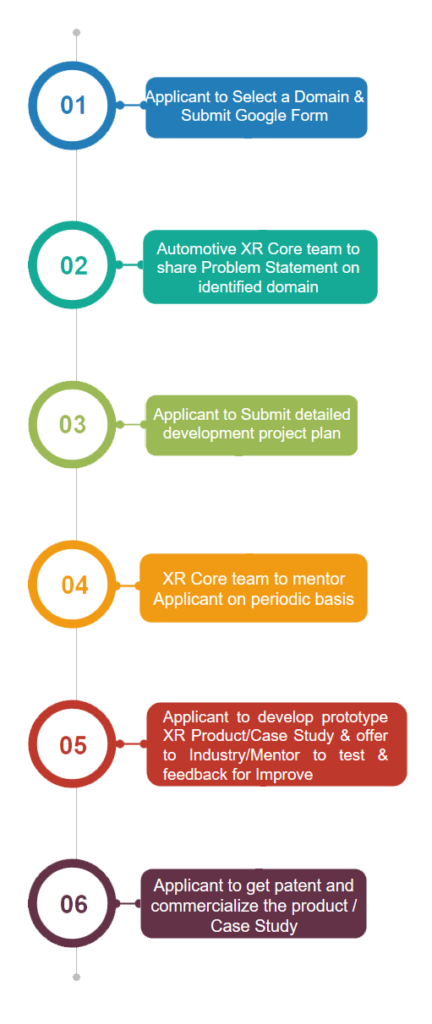 To receive updates on Webinar, Event, Hacathon and News.